So, I'm in a book club. I have been for some years now. One day, we just decided we'd read a common book, get together, and maybe talk about it over a meal. Once a month, we'd read a book, eat good food, and meet on the third (or fourth) Saturday. We'd also discuss some characters, plots, settings, and their relevance to current events. Sixteen years later, we still do this.

I love my book club, really I do. We've gone through our ups (births, marriages, promotions) and our downs (death, divorces, miscarriages). We have had new members join and old members leave. We've gone on field trips and funded scholarships. Whatever we've done in our lives, we've done it together. This includes READING. I did say this was a book club, right?

I recently lamented that I needed to read a book for my book club (because I had waited until the last minute). A male friend remarked, "A book club? Woooow, that's so 2001." I said "yeah well, that's about right." His comment made me think, though. All of these other book clubs that I had known had disbanded or rebranded themselves into social clubs; one even made itself a wine club. They had all declared it "too hard" to get the reading done. Not us. We have always made reading the priority. And when members who didn't read wanted to change the group's focus, or tried to steer the conversation away from the text during the damn meeting, or just made it plainly clear that they didn't read, they've been uninvited from our book club. Plain and simple. Sorry, not sorry.

So, yeah, my book club is serious. We even have bylaws and getting the reading done before our meeting is Rule #1. I am known to read a book in a day—because no matter how hard it is to complete that task, looking my friends in their faces and admitting that I'd had a whole month to read and didn't, was way harder. This is why when our book club selection was Becoming by former First Lady, Michelle Obama, was released just 4 days before our meeting, I dove right in. I downloaded electronic versions on Kindle and Audible AND I bought the hardcover book. For a little under a week, I consumed Mrs. Obama. Our book club was to follow up this month's meeting, immediately after with a "field trip" to the Capital One Arena in Washington, D.C. for An Intimate Conversation with Michelle Obama, a stop on her 10-city book U.S. tour in front of tens of thousands fans at arenas across the nation. Oh, and there are stops in London and Paris, too.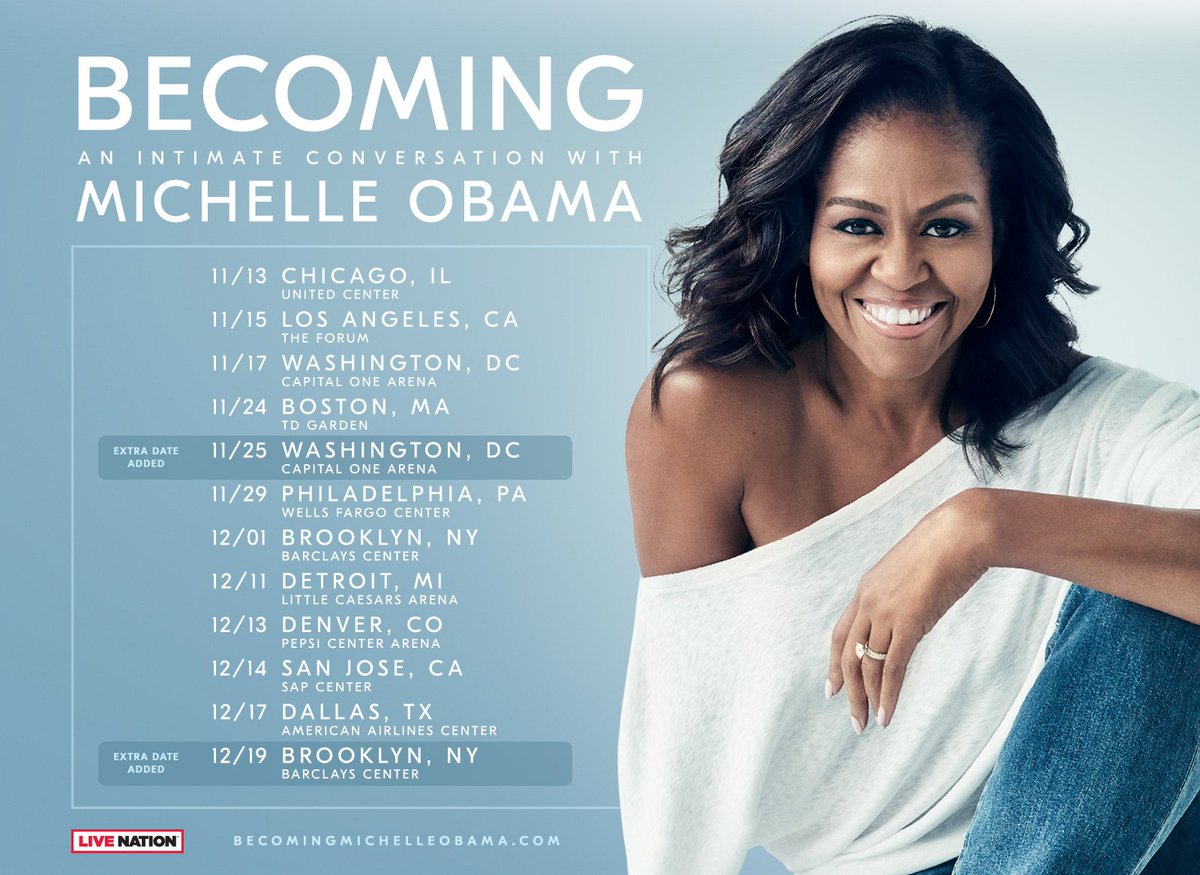 In case you have been cryogenically frozen in time like Austin Powers, you know that Michelle LaVaughn Robinson Obama was and is a pretty big deal. Especially to black woman. Her book is a candid look at her humble beginnings from South Side Chicago and her rise to fame, accomplishment, and more recently, fortune, as First Lady, keynote speaker, and now as an author. Black women see themselves in her. And, we can't get enough. In her book, she details her rigid piano lessons from her perfectionist aunt at a young age; a doubting high school guidance counselor who told her she wasn't "Princeton Material;" the heartbreaking death of her father whose pain and long-time debilitating disease could have been at least better managed; and her later struggles with infertility & miscarriage and balancing career & motherhood. (See, I read it? Every page, too.) Then, there's the story we all know and love—her romance and marriage with You Know Who. It's a story we can all relate to and we love to see it and hear it and dream it over and over again.

My book club met at RPM for dinner on Saturday at 5 pm., just before Obama's appearance. We talked about the text and we ate delicious food. We all loved both, of course. Afterwards, we all walked over to the arena together, nervous with excitement. We came upon our secret entrance (which I won't mention now because I'm sure I'll have to use it again) and the line was long, to say the least, but it was manageable. I saw from local and national news and social media posts, lines of folks that wrapped around the building and ran down multiple city blocks at the other entrances, mostly filled with women. Everyone snapped pictures and waited patiently to go through security. We did and couldn't wait to settle down for our "intimate" conversation with our FLOTUS. As the arena filled to capacity (yes, even the 400-level seats), all I kept thinking to myself was "sold out seats to hear Michelle O speak!"

By 8:45, the show hadn't started yet. I later read that people at all entrances were still waiting to get in the arena. Meanwhile, slideshows and interviews and Michelle's personal music playlist entertained the audience. When the lights dimmed and we heard "Miche" (her family nickname) affectionately tell us to that she couldn't wait to talk to us, I felt like she was talking directly to me. The crowd roared, as it did several times that night. Former Senior Adviser to President Obama, Valerie Jarrett, moderated what felt like an interview, a concert, a stand-up routine, a motivational speech, and a chat with a close girlfriend. All of the above. We sat captivated. And, for 90 minutes we all were yet again privy to some #BlackGirlMagic up close and personal. Yes, even the 400-level seats.
By the end of the night, I realized that most of what she said on stage was in the book. That should be some solace to those that couldn't afford the upwards of $700-$1000 resale price for tickets. (Thanks, Scalpers!) It still felt good to see her and hear her talk and virtually slap high-fives with all her sisters in the audience. And, just when we thought the night couldn't have gotten any better…here comes Barry O., strutting on stage to a standing ovation and a euphony of cheers from the audience. Writer Eric Thomas recently gushed that Michelle Obama was the Beyoncé of Books. Well, Barack Obama showed up for his "smart, funny, beautiful" wife (his own words) like Jay-Z, and he said as much. With his familiar swag and flowers for Michelle in hand, he urged everyone to take a seat and compelled us to at least consider his side of the How-We-Met story. It was all just so cute. During one of his infamous extended pauses for just the right words, a lady in the audience member took advantage of the break, screaming out "we miss you!" to more applause.That's right; we do. We miss y'all.

As for my book club, we left the arena elated, on a virtual high. We had done yet another epic thing…together. Sunday morning, we still couldn't get over it. We chatted on Group Me, we tagged each other on social media, we texted each other privately. We did it! But, the next book awaits. And, that third Saturday will be here soon enough.

An Intimate Conversation with Michelle Obama returns to Washington, D.C. on Sunday, November 25th.