Rejoice NBA fans! If you are reading this for the first time a little after 8 o'clock tonite, the new season would have officially kicked off and yes, we here at Champagne In The Locker Room are an excited bunch.

So much so that I have hijacked our normal #TopTenTuesdays recurring series to celebrate all things NBA.  
CUE THE MUSIC!!!!
Today's edition will feature 10 burning questions going into the new season and I, your beloved Editor-In-Chief, will try my best to answer them as best as humanly possible. 
1. This Jimmy Butler-Timberwolves fiasco, what is the end-all for all of this?
Well, if you have been living under a rock or don't really give a shit, TWolves All-Star guard Jimmy Butler asked for a trade during the offseason.  
Ok, that happens all the time…what makes this instance so different than the others?  Nothing, except there has been some crazy rumors to why Butler asked for a trade leading up to Butler's alltime practice tirade in which he called everyone from Karl-Anthony Towns, Andrew Wiggins, the Timberwolves' leadership, including Tom Thibodeau and Scott Layden basically some BAN's (I shouldn't have to explain this acronymn at this point).  This will eventually end up with Butler in Miami, where he wants to be. Butler and his attitude is the exact type of player that will flourish under the Pat Riley/Erik Spolstra regime – he is their type of guy. The male in me LOVED the way Butler called the Twolves out for being soft etc but the logisitcal person in me saw what it was worth from the get-go – a pure money grab.  Butler will get his max deal but it wont be in Minnesota, which is sad in a sense.
2. Which all-star cailber player will see the biggest decline in his play this season?
This annual award should be called the "Carmelo Anthony Memorial Award" as we have watched his fall from grace these last few years with a keen eye.  With that being said, I predict that DeAndre Jordan will slowly decline into the "highly paid role player" phase his entire career has been destined to be.
3. Surprising players that are not currently All-Stars to watch?
I have a lot of guys that I am very intrigued to see their development. Markelle Fultz in Philly, Jamal Murray in Denver and Lauri Markkanen in Chicago are the three guys I am looking to take the next level in their respective games.  Fultz is an amazing case study just because of everything he's had to endure in the past 12 months.  Also be on the lookout for Hornets rookie Miles Bridges.  He is my darkhorse choice for Rookie of the Year along with Luka Doncic of Dallas and Deandre Ayton, the overall #1 selection of Phoenix 
4. Are the Wizards forever gonna be 4/5th seed with a 1st or 2nd round exit?
Well, forever is a long fucking time.  But, because of the rise of the Celtics and Sixers and the mulitple assets they have accumulated over the years, it honestly looks as if that first/second round area is the ceiling for this franchise unless there are major changes in the team infrastructure, which means trading either John Wall or Bradley Beal.  The Wizards brass took a flyer on the injured Dwight Howard on a team-friendly deal this offseason and also aquired veterans Austin Rivers and Jeff Green to give the bench a much needed boost. If everything goes exactly to form, maybe an Eastern Conference title apperance isnt out of the question. But, we are talking about the Wizards…..
5. How far are the Lakers gonna go REALLY?

Hmmmm, I honestly can not answer this question until the trade deadline, when LeBron James gets what he needs as he does every year.  This trade deadline expect the Lakers to move one or two of the younger core to acquire a designated shooter or two.

If they can land a shooter or two at the deadline, a conference finals apperance wouldnt be out of the question.  If not, their ceiling is the second round.

6. When exactly will Bron and Born Ready gonna have their first fight?
It might have already happened – we just don't know about it –  but I'm expecting something to happen around the trade deadline and Lance will be traded along with one of the young core for that shooter LOL!

7. Who is your league pass team?

League Pass teams have nothing to do with team records or how I expect teams to finish during the whole campaign.  These are just for entertainment purposes only.

For the last two seasons, my go-to League Pass team has been……..the Denver Nuggets.

This year, the Nuggets are still my guys.  They have so many fun players to watch – Nikola Jokic, my choice for Most Improved player Jamal Murray, the criminally underrated Gary Harris and my main man Will Barton.  Utah is another fun watch so here's hoping there is no sophomore slump for guy Spider Mitchell.
8. Surprise NBA team no one sees coming?  
I know I'm going to sound like a homer…but watch out for my Wizards, man.  Look out for John Wall to have a bounceback campaign.  It seems as if people forgot that the man missed 48 games last season and was still able to put up 27 and 11 assists in the playoffs last season on a bum wheel.
Alas.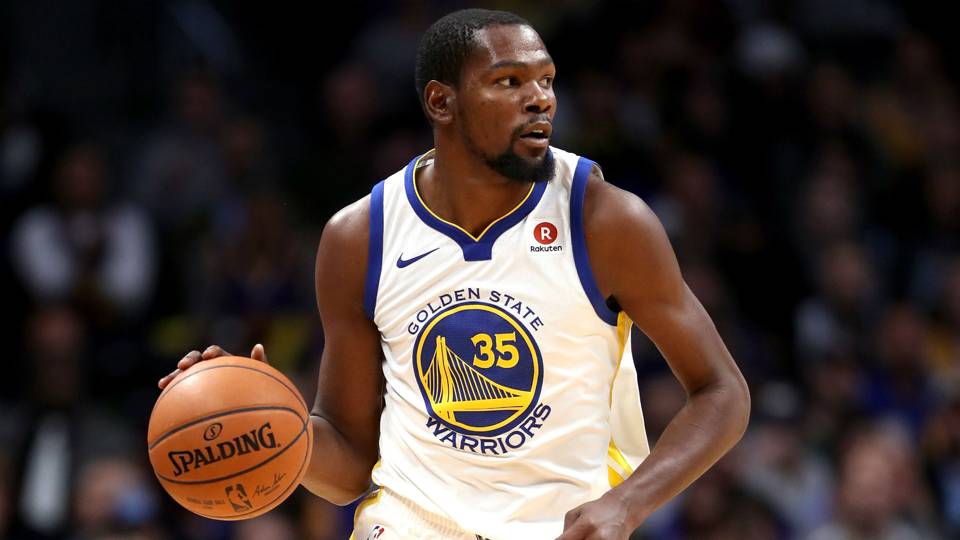 9. All this talk going around, but is there any good reason to leave Golden State if you're KD?

No, unless you listen to social media and want to show those fuckers that you can "win on your own".

And I get that….I truly do.  Selfishly, we all want to see if Durant could lead his "own" team to the promised land.  I just don't want him to make a move out of Oakland to make "us" happy. Do what you need to do to make yourself happy and fuck the fans.

10. Who wins it all?
Until an Eastern Conference team can win at least three Finals games, I'm still choosing the Warriors.  This time, it will be over the Boston Celtics in six games.  This team will stamp its legacy as one of the greatest teams to ever lace 'em up.
Welp, that was fun…..now, are you ready for some basketball??