Patrick Ewing's long torturous road to a head coaching job ended today when Georgetown University named him head basketball coach. It's a blessing for the former Hoya great, but it may also be a curse.
Before we go any further, let's be clear that Patrick Ewing is qualified to be a head coach at any level of basketball. He's a hall of fame player who played 17 years in the league. He spent the next 15 toiling as an assistant.
He's worked with Doug Collins, Jeff and Stan Van Gundy, Tom Thibodeau and Steve Clifford, all of whom have endorse him. He's paid his dues and only people with particular prejudices will question whether or not he knows how to coach. His resume speaks for itself.
However, his goal was to coach in the NBA and not in college. The game is the game, but the skillset that a coach needs to succeed in the NBA is very different than one you need as a college coach.
Perhaps the most important task a college coach has is recruiting. Patrick has never done this before. He is going to have to grind on the trail. That means dealing with a lot of AAU and high school coaches, overbearing parents and delusional players. That job will be made even tougher by the current perception of Georgetown both nationally and locally. It is at its lowest point since John Thompson Jr. took over in 1972.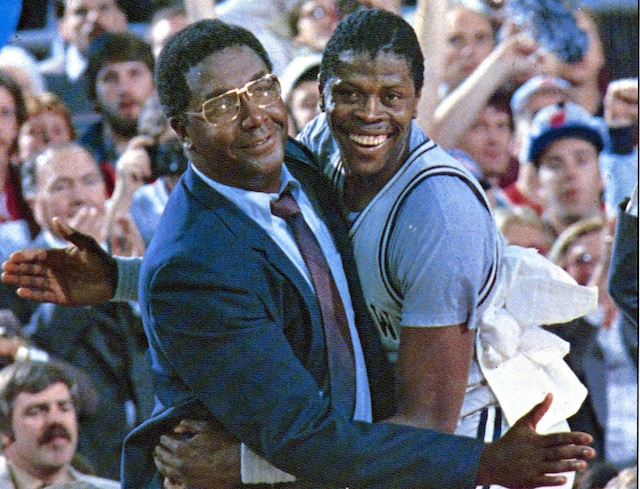 Next thing he's going to have to deal with is running a program. NBA coaches just coach. They watch film, they game plan, they watch more film, they try to motivate their team. He's got to be responsible for 18-22-year-olds, make sure he plays a proper schedule, prepare to play and be the public face of the program. Speaking of which…
Ewing is one of the original members of Hoya Paranoia. That was cool in 1984. It will not work in 2017. He might be prepared for coaching in the social media era, but WE don't know. He must open the program up to the public. Selling himself and the Georgetown brand is of paramount importance. Part of John Thompson III's downfall was because it was Cold War Russia on the Hilltop and he refused to change. Ewing has got to tear down that wall.
Finally, he's got to let it be known that it's HIS program now. Thompson Jr.'s hands were all over this hiring process and it has a lot of Georgetown alums and fans freaked out. There is plenty of justification for Patrick getting this job, but there is none for him being the only candidate with an official interview. That has Hoya fans fearful that nothing has changed. It would behoove Ewing to alleviate those fears immediately. That doesn't mean you tell Thompson he can't be around. He just can't be at all the practices and at the back of press conference room. There are models at St. John's and Louisville where the legendary coach is still around, but stays out of the way.
He's got some real challenges ahead of him and Georgetown fans have valid concerns about whether he can adjust to the college game. However, this is the single most important player in the history of the program and someone who just spent 15 years as an assistant when he could've retired on a bed of money. He deserves patience and support.