I know I am "late", but I just couldn't get my thoughts together until now. It took me a couple days to truly process what happened, yet, it still doesn't feel real to me.
How can something that happened to a man that I have never met in my life affect me like this? When 2Pac died, I can admit, I didn't feel like this. When Biggie died, I can also say, I didn't feel like THIS.
I was sad that these budding superstars time was cut short, but I didn't feel like I feel now. Maybe it's the social media effect? You know, you see more of people than you would have in the 90's. It makes you feel like you know the person even though you've never met them. After careful consideration, I have determined that this isn't the case with me. I honestly cannot put my finger on exactly what it is, and that's what bothers me. I'm in uncharted territory. Why do I feel like this? I'm a grown ass man, I should not feel like this…But I do. I'm just going to type through it.
All my friends know that West Coast rap is my favorite subgenre of rap. It's been that way ever since I started listening to rap music as a kid. East Coast rap is cool, I mean, I do live on the East Coast. But West coast rap has always been in my wheelhouse and I used to say that I probably should have been born on the West Coast.
During its peak, the West Coast was untouchable. Everything they touched turned to gold and it didn't matter who the rapper was. I'd be here all day if I listed all the rappers and songs with great music. Then that died out. I want to say that it was probably around the early-2000's when West Coast Rap was on life support.
I was hurting, because as a fan, I never wanted that signature West Coast sound to die. I started to lose hope that I would never get to hear that type of sound again. Some West Coast rappers have an accent and when combined with that West Coast sound, it creates magic. Around the mid 2000's, I first heard music by Kendrick Lamar and Nipsey Hussle. I said to myself, "These guys could be the guys that bring the Westside back". Kendrick was a little different to me, he was a West Coast dude, but he really didn't have that sound to me, but he is a GREAT rapper. But when I heard Nipsey, I knew he was the one. He had the bars…the sound. And most importantly, the voice and the accent. This is what I was searching for! This is IT! I told my friends that this is the guy, just wait.
It was a slow burn for Nipsey. He released his first mixtape in 2005 and kept releasing mixtape after mixtape after mixtape all the way until his first studio album. During this time period, we have seen the rise of TDE (Kendrick, Jay Rock, Schoolboy Q, Ab-Soul), YG, Ty Dolla $ign and numerous others. The West Coast was BACK! But Nipsey was still absent of a studio album. His mixtapes created a lot of buzz because he did something no one ever thought of. He sold his "Crenshaw" mixtape physically for $100 and free digitally. He sold 1,000 copies of that mixtape. He did the same for his follow-up, "Mailbox Money", where he sold 60 copies for $1,000 each and released it free digitally. One particular fan of this model is none other than Jay-Z who bought multiple copies of BOTH Mixtapes.
This put Nip in a position of power unlike any other artist. Which eventually led to him signing a deal on his terms, and the Grammy nominated album "Victory Lap" was released in 2018. I stayed up that night when Victory Lap was released. I didn't go to sleep until I finished the album. I damn sure wasn't disappointed.
It was the West Coast studio album I have been waiting on for almost 15 years. All I could think of was the future for Nipsey.
My guy was OUTTA DERE!
Everyone loved the album!
I don't think there was another rapper on Earth more loved than Neighborhood Nipsey. He was literally good in EVERY hood! He was known by almost every rapper in the industry. He was beloved by his community because he never left. He opened a store and then bought the whole plaza. He opened office space so small businesses would have access to a professional workspace. He even created a STEM program to educate the youth in his neighborhood to show them a better way. Nipsey was trying to better his community, and he wasn't close to being finished. As I'm typing this, I am getting angrier and angrier because this man wasn't just a rapper!
This man just wanted his community to be known for the right reasons instead of the wrong reasons. Yes, he was a Crip, and he wouldn't hesitate to tell you. But it didn't define HIM. Sure, he's probably done bad things, but he was trying his hardest to fix those things so that the future generation in South Central would not have to resort to those same things. So anyone out there can miss me with ANY of that bullshit! I know I have gone off on a tangent, but some things had to be said.
On Sunday, March 31, 2019, I turned the pages on the book that I have been reading since 2005 and I saw blank pages…I was confused. Where is the rest? HOW IS THIS STORY OVER???? IT CAN'T BE OVER! THERE IS SO MUCH MORE TO BE WRITTEN! THIS IS BULLSHIT!
I know this is selfish of me, but I was not ready for this book to end. His vision was clear and it will be up to those close to him and his community to pick up where he abruptly left off.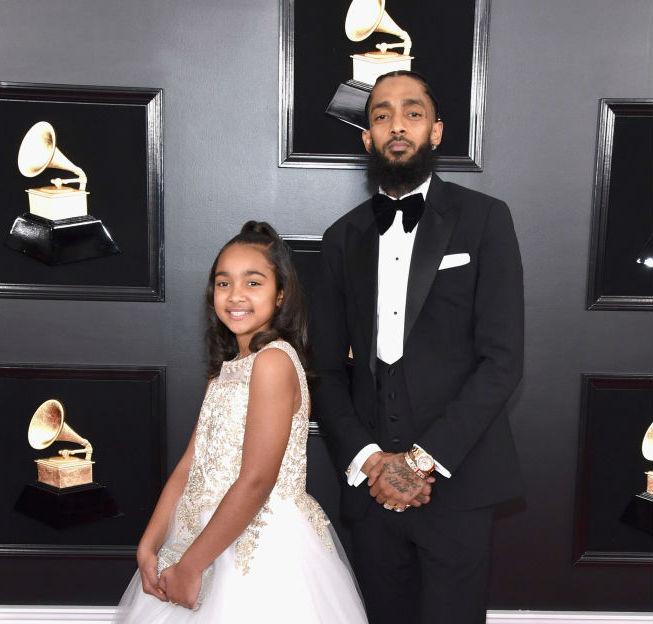 I started this article not knowing why I feel the way I do, but now I have clarity. It's still hard to convey it in words, but I know what it is. It's admiration. It's respect. It's recognizing greatness when you see it. It doesn't come around often, but when you see it, you know it. And when something tragic derails that greatness, it hits you like punch in the gut. That's exactly what it is, and it hurts. I send my prayers and well wishes to Lauren London, his children and the whole Asghedom family.
Rest in Paradise Nipsey, continue to run your race in heaven and know that the marathon will never stop!