Life is hard.
Sometimes, life is REALLY hard.
There is no instruction manual. Everybody offers different advice. There are times when I have no idea what I'm doing, where I'm literally feeling my way through adulthood, motherhood, and entrepreneurship blindly, making decisions "eenie meenie minie moe" style and hoping for the best. Sometimes there are no definite answers. Wait. There are NEVER definite answers. All you can do is hope you have enough knowledge to make the right decisions. So life is hard, and tricky, and there are no easy answers…
…but there are books that will encourage you as make the best decisions you possibly can. There are books that help you think more clearly, that reveal things about your character that you can use moving forward, and that will help you when you're stuck, when life runs amuck, and when things absolutely suck.
(Y'all liked my bars. Admit it.)
My favorite go-to: The Bible.
I love the books of Proverbs, Philippians, and Ephesians best. There's always something in one of those books that speaks directly to whatever I'm going through. There is something so soothing, so comforting to me about reading the Bible. It's almost always the first thing I grab when I'm going through something.
Besides, the Bible, these are my top 10 motivational/ inspirational books, in no particular order.
A note before I start: You are a Badass: How to Stop Doubting your Greatness and Start Living in Awesome Life by Jen Sincero remains my absolute favorite motivational book OF ALL TIME but I already put it on another list I wrote, so I excluded it from this one, but this book absolutely changed my life. Read it FIRST if you haven't already.
Alright… Here we go:
No Matter What! by Lisa Nichols
Lisa offers nine steps to living a life you'll absolutely love by giving practical advice on how to build the muscles we need to be successful, including the understanding muscle, the faith-in-myself muscle, and the I-know-like-I-know muscle. Lisa is very relatable, and her story is amazing. This is an easy read full of easily applicable principles.
13 Things Mentally Strong People Don't Do by Amy Morin
So apparently, unbeknownst to be before I read this book, there are very specific things that mentally strong people avoid doing. I read this book and realized how mentally weak I was. Womp, womp. According to Morin, mentally weak people don't waste time (I am the QUEEN of procrastination), they don't give away their power (please don't get me started on this one) and they don't shy away from change (*hangs head in shame*). That's only the first three chapters. While this book may open your eyes in a very uncomfortable way, it will make you more self-aware… and nothing great happens inside your comfort zone. Read this one. Very, very sobering.
What to Say When You Talk to Yourself by Shad Helmstetter, Ph.D
We all have that internal voice in our heads. (Well, I have two. My mother seems to live up there, too.) That internal voice is so important, because it shapes how you see and value yourself. That internal chatter could be the difference between you being great and you hiding from life in under your covers. This book teaches you how to change that internal chatter into something that empowers you.
The Little Black Book of Success: Laws of Leadership for Black Women by Elaine Meryl Brown, Marsha Haygood, & Rhonda Joy McLean
My old bank branch manager gifted me this book when I opened up my business account. Three fabulous women collaborated to create this manual for black women that teaches them to be leaders. The book teaches you how to tap into your leadership potential, to discover the traits about you that sabotage your leadership, and how to develop leadership qualities so you can be the bad-ass you were born to be.
Small is the new Big and 183 other riffs, rants, and Remarkable Business Ideas by Seth Godin
I got this book from the free bin at a literacy fair, proof that somebody else's trash truly became my treasure. I don't even know how to explain it. It's a series of short essays and rants on every single aspect of business—what works, what doesn't work, what to avoid, what to run towards, etc. Godin is hilarious, so the book is delightfully funny and easy to read. The essays also keep you engaged, since the topics change, so you won't get too bored reading this one.
This is Stephen King's memoir. In the first section, he talks about his story, how he made it as a writer, how broke he was as he wrote his first stories, how excited he was when he finally sold a story, and his rise to author stardom. The second section is full of practical advice for writers. King uses his experience to tell authors what to avoid when they write, what to improve and study, and how to present themselves to publishers. And we all know King has experienced some success (understatement), so his is probably advice to follow closely. Beyond that, Stephen King is fascinating as hell.
The Moments, the Minutes, the Hours: The Poetry of Jill Scott
This book isn't motivational in and of itself, but damn, Jilly from Philly writes some gorgeous poetry. When I'm feeling particularly shitty, this is my go-to read. It doesn't inspire greatness or anything like that… but it is a dope way to distract myself from the shitstorm going on in my life, so I guess that's worth something, right?
Three Feet from Gold by Sharon Lechter & Greg Reid
This book is built on the principles of Think and Grow Rich by Napoleon Hill. It's the story of a man who loses everything—his job, his girlfriend, his fortune, and his self-esteem—and sets out on this journey with the guidance of a mentor to discover the secret to success. He ends up writing a book that sells really well and earns him his fortune back. The nuggets in this book are hidden in the story. It's a little corny at times, but the premise is that you shouldn't ever give up, because you might stop digging when you're three feet from gold and you would've never known it because you were a quitter. Wait. I just gave you the whole book. Still read it. Okay?
Our Iceberg is Melting: Changing and Succeeding Under Any Conditions by John Kotter
This book is a short read about penguins who live on an iceberg that is melting, written by the same guy who gave us Who Moved My Cheese? which, in my opinion, is a slight masterpiece. This book was also pretty dope. Some of the penguins wanted to ignore the melting and stay where they were comfortable. Others wanted to lead by bulling and intimidation. Others didn't know what to do and were waiting for a leader to make decisions for them. The book talks about what it takes to be successful, no matter what conditions you're under. Great book. Quick, easy read.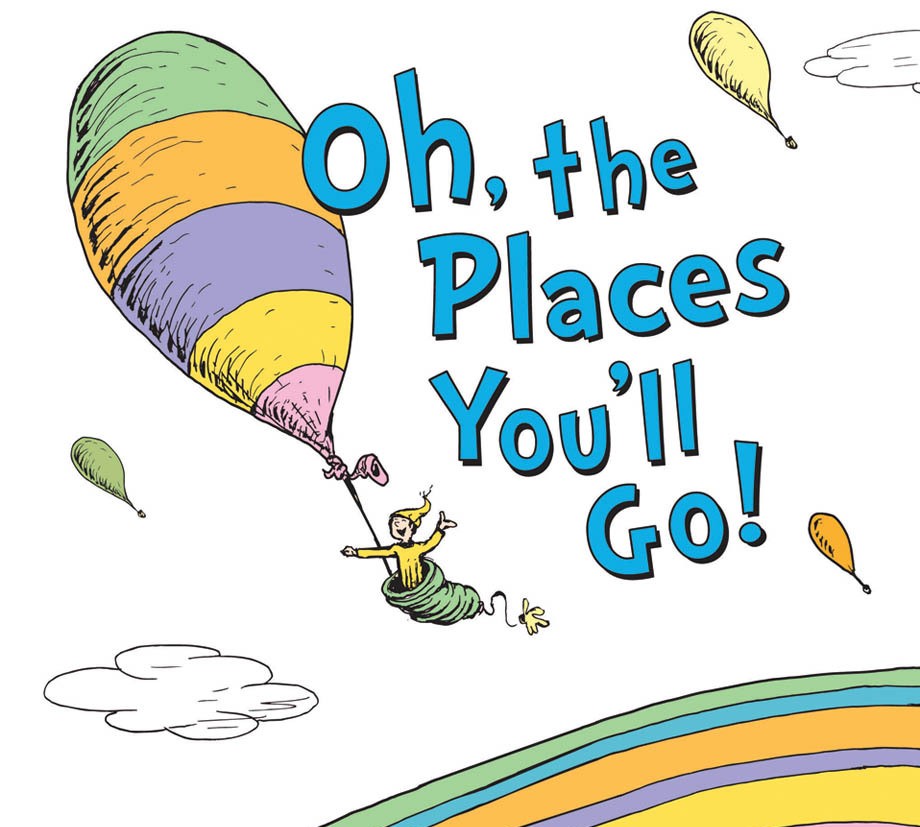 Oh, the Places You'll Go! by Dr. Seuss
Listen. I know that we have exposed Dr. Seuss as a raging racist who should be denounced from the literary world, but this book remains one of the most inspirational books I've ever read, Dr. Seuss's character notwithstanding. It's a children's book about setting out on the journey of your life and not getting distracted by the dark places, the shady people, and the discouragement of life. Seuss uses his telltale rhyming thing to encourage children (and adults) to keep going, keep moving forward, which is the very thing that most of us need: the encouragement to press forward. Seuss is alright with me for this one. Judge your mother.
Honorable Mention:
Right now, I am reading Abundance Now by Lisa Nichols, which I'm totally into just a few pages in. Lisa is a POWERHOUSE. Get into her, please!
So. This is my top ten, in no particular order. These books have dragged me from some dark places over the past several years, and I hope that you find something on this list that motivates and inspires you to keep going when life sucks and things get hard. These books changed my life, my mentality, my self-perception, and my confidence. They could change yours, too. You're welcome.